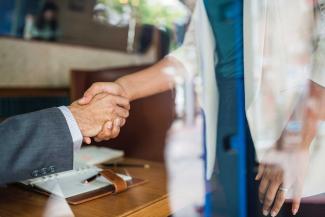 How to Choose a Life Insurance Agent
Buying life insurance usually starts with trying to determine how much and what type you should buy. You will probably need some help making those decisions, so following is some insight on how to choose an agent who can help you make a smart life insurance buying decision.
All life insurance agents are required to be licensed by the state where they intend to make sales and to take continuing education courses. Agents selling variable life or variable universal life insurance must also have a Series 6 and a Series 63 license due to the investment nature of those products.
One common way to choose an agent is to ask a trusted friend or relative for a referral to an agent. The agent you are referred to may have earned one or more of the following professional designations:
Chartered Life Underwriter (CLU)
Chartered Financial Consultant (ChFC)
Certified Financial Planner (CFP™)
Life Underwriting Training Council Fellow (LUTCF)
Let's take a look at the two broad categories of agents:
Traditional Agents
For many years, your choice was limited to the following home service agents who would visit you at your home or office or ask you to go to his/her office.
1. Captive Agents offer policies for only one company. Working with a captive agent requires that you have confidence in both the agent and the company he/she represents.
2. Independent Agents offer policies from a wide variety of companies. The advantage of independent agents is that they can search for a company that offers the policy that best fits your needs. This can be especially important if you have special underwriting considerations.
3. Career Agents are licensed with many companies but have a primary relationship with one company. Career agents will generally offer you a policy from their primary company but do have the ability to search other companies.
On-Line/Direct Agents
The advancement in electronic technology has resulted in many of us making our buying decisions using an online/direct service.
Today, you can choose from a variety of companies that will allow you to begin the buying experience by requesting an on-line quote and then calling to speak with or chat with an agent. Many people like this option because it accommodates their busy schedules and eliminates having to meet face-to-face with an agent.
There are two primary types of companies offering the online/direct purchasing option.
Captive Direct Agents can only sell policies for one company; much like how a captive agent works.
Aggregator Agents search from a menu of companies to find a policy for you much in the way an independent or career agent would.
In either case, you have the opportunity to speak with an agent on the phone or electronically chat with an agent who will guide you through the policy selection process.
Limited movement has been made for an online experience without having any direct contact with an agent.
Choosing an agent is a personal choice and there is no universal 'best choice'. Consider your buying habits and choose an agent that best matches them.
*This content is developed from sources believed to be providing accurate information. The information provided is not written or intended as tax or legal advice and may not be relied on for purposes of avoiding any Federal tax penalties. Individuals are encouraged to seek advice from their own tax or legal counsel. Individuals involved in the estate planning process should work with an estate planning team, including their own personal legal or tax counsel. Neither the information presented nor any opinion expressed constitutes a representation by us of a specific investment or the purchase or sale of any securities. Asset allocation and diversification do not ensure a profit or protect against loss in declining markets. This material was developed and produced by Advisor Websites to provide information on a topic that may be of interest. Copyright 2023 Advisor Websites.